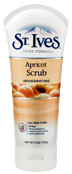 I love this haute buy – St. Ives Apricot Scrub.

I have been using it for years. You will see a difference in your skin from the first use. It's gentle but it's 100% natural exfoliants and Salicylic Acid get the job done. It's easy enough to use in your everyday beauty routine – and smells great! It get rids of dead skin cells and leaves skin feeling healthy and fresh. For those with sensitive skin, they have a formula just for sensitive skin.

At $3 – $4 a pop, St. Ives Apricot Scrub is one hatue buy!