So, since it's been raining non-stop for 8 days here in Los Angeles, I decided to make my way to the mall. I walked into one of my absolute favorite shoe stores, Eilatan, located in the Beverly Center and spotted these two cuties.



I've been on the hunt for a pair of killer red pumps, so I was very happy to find these by Report. They reminded me of Dorothy's Rudy red slippers but would go great with jeans or a cute dress.
These whimsical black and white checkered pumps from Gwen Stephani's L.A.M.B. collection are a great addition to any girl's shoe collection.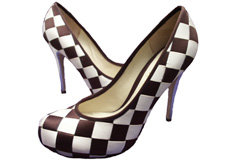 Visit Eilatan.com and check out all the awesome shoes they have! Enjoy!